December 12, 2022
Two new projects on mid-infrared optical coherence tomography - TURBO and ZDZW
We are proud to announce our participation in two Horizon Europe projects that started in 2022:
TURBO - Towards turbine blade production with zero waste (turboproject.eu)

ZDZW - "Zero defects, zero waste" Non-Destructive Inspection Services for Digitally Enhanced Zero Waste Manufacturing (www.zdzw-project.eu)
In both projects, NORBLIS is tasked with developing a MIR OCT platform for industrial non-destructive inspection. Read more about the projects on their respective project websites linked above or on our LinkedIn page: https://www.linkedin.com/company/14050700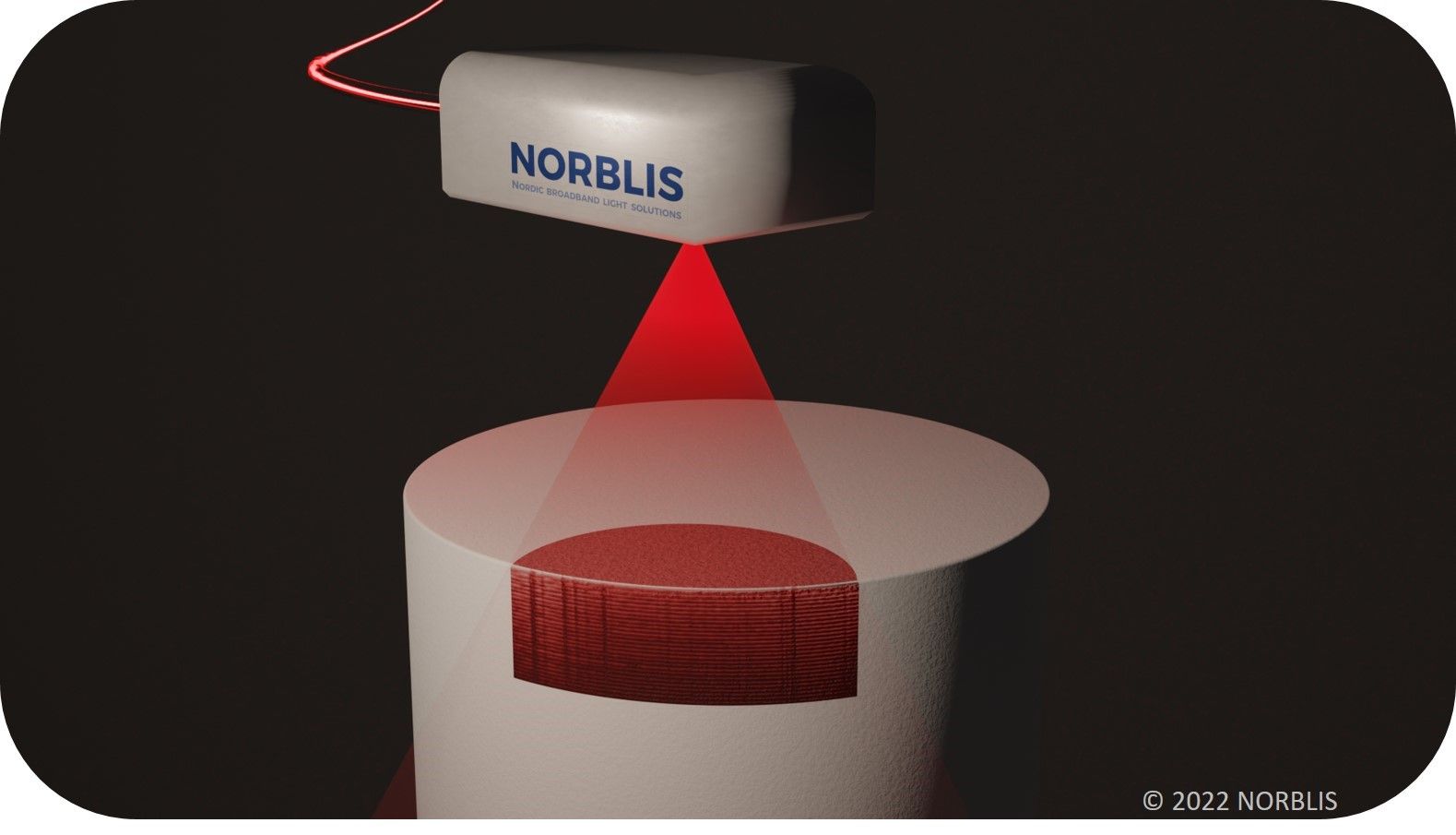 Illustration of NORBLIS MIR OCT scanning of additively manufactured layered ceramics
November 11, 2020
NORBLIS joins the fight to battle air pollution in 2021
We are excited to share the news that starting from early 2021, NORBLIS will be part of the Horizon 2020 project TRIAGE with the goal of developing a highly sensitive and portable air pollution detection system. The system will be based on the NORBLIS broadband supercontinuum source, enabling identification and quantification of several important air pollutants, that have a significant impact on human health and the environment. More information will follow in the new year. Sincerely, the NORBLIS team.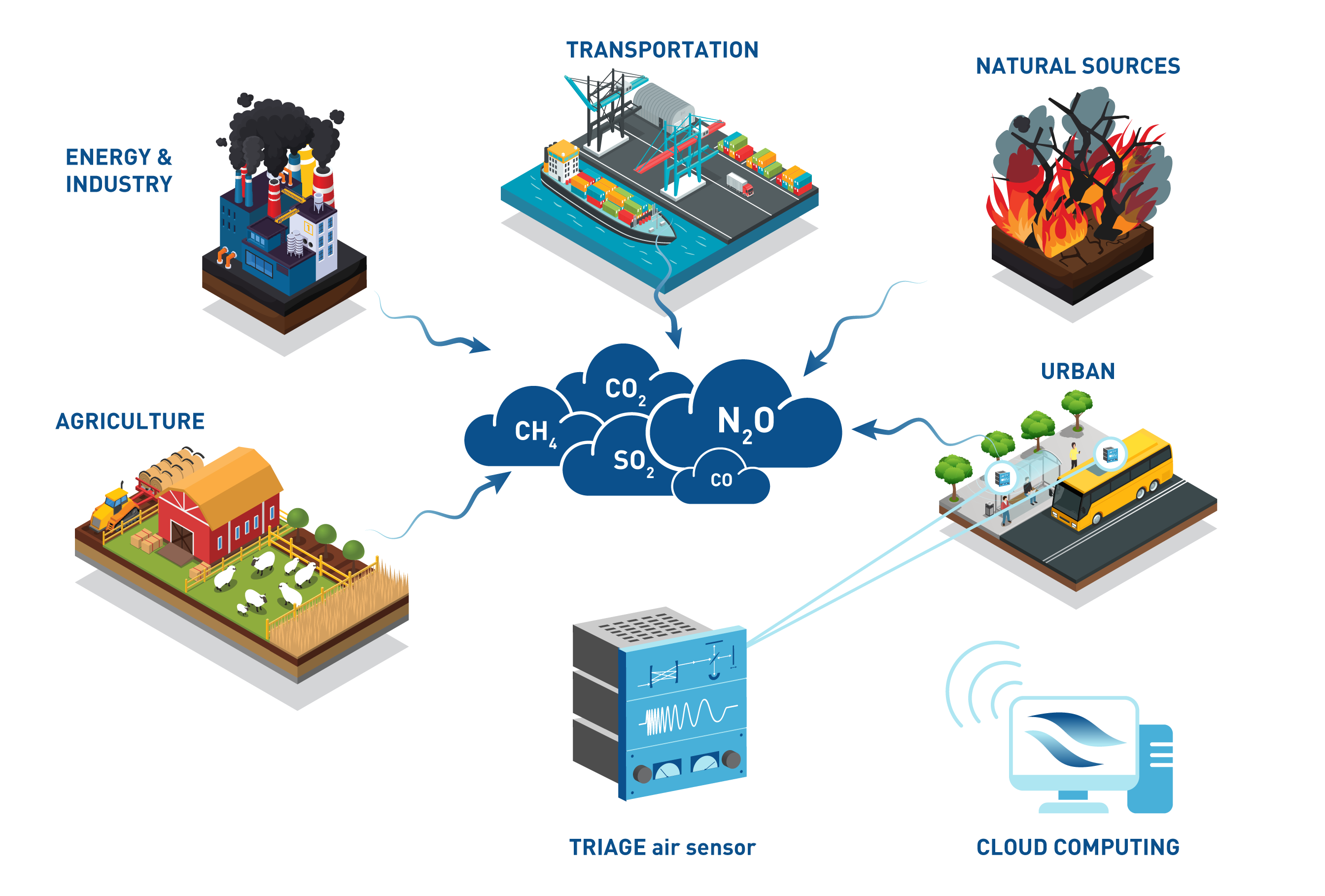 October 21, 2020
NORBLIS is hiring! (positions have been filled)
| | |
| --- | --- |
| To support our growing activities, we are looking for new talent to join our R&D. Candidates will contribute to the development of the next generation mid-infrared fiber-laser technology, so if you are passionate about lasers and want to become part of a promising start-up company specializing in cutting-edge supercontinuum lasers, then this is the right opportunity for you. Visit the JOBS section of the website for more information. | |
April 29, 2020
Webinar on Mid-Infrared Supercontinuum Generation in Optical Fibers May 20th
We from NORBLIS hope that you will stay safe during the COVID-19 pandemic, and if you are one of the many who are staying at home in these days, we have a suggestion for you:
If you are interested in learning more about mid-infrared supercontinuum generation, the core technology of NORBLIS, we suggest that you register for the upcoming webinar by NORBLIS co-founder Christian Rosenberg Petersen. The presentation will cover the history, physics, fiber design, pumping schemes, and applications of mid-IR supercontinuum generation. The webinar is hosted by the Fiber Modelling and Fabrication Technical Group of the Optical Society of America (OSA), and you can register for the event by following this link:  Webinar link
https://www.osa.org/en-us/meetings/webinar/2020/mid-infrared_supercontinuum_generation_in_optical/
February 18, 2020
50-year Celebration of the Birth of Supercontinuum at Photonics West 2020
It was a great honor for NORBLIS to be part of the 50-year celebration of the discovery of Supercontinuum at Photonics West 2020. The anniversary was marked with several talks by prominent names in the field, including its first observer Prof. Robert Alfano, and of course no birthday is complete without a birtday cake (see photo below). From NORBLIS it was Christian Petersen who gave a talk about using the NORBLIS mid-infrared supercontinuum laser in combination with optical coherence tomography for non-destructive testing of paints and coatings.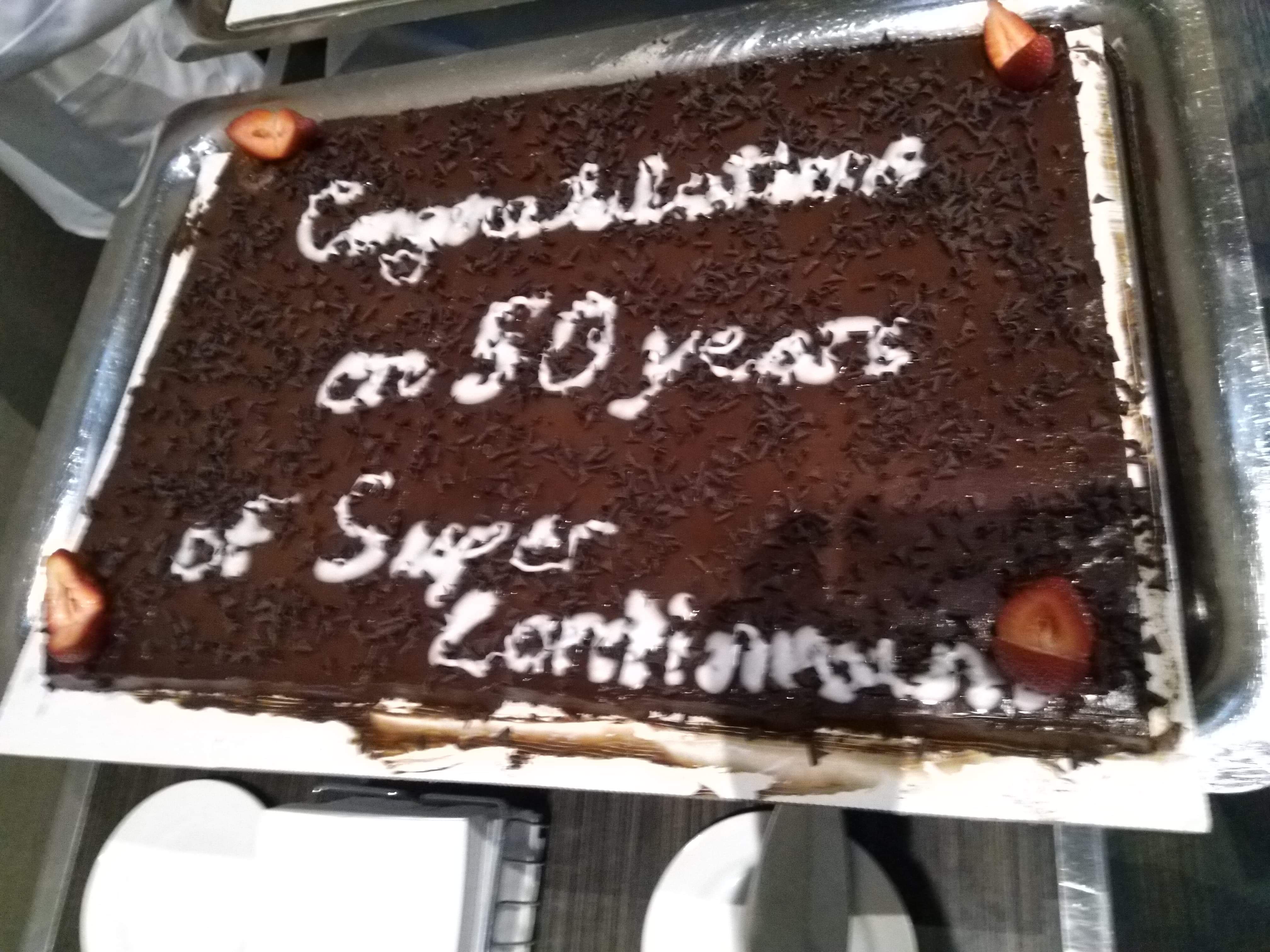 December 16, 2019
NORBLIS invited talk at Photonics West 2020 industrial session
We are very happy to announce that NORBLIS has been invited to give a talk in the session "Industrial Supercontinuum Fiber Lasers" during Photonics West 2020. The session is part of the "Optical Biopsy XVIII: Toward Real-Time Spectroscopic Imaging and Diagnosis" conference-track, which has several sessions devoted to supercontinuum generation, including a tribute to the 50th anniversary of Supercontinuum. We look forward to share our recent progress within supercontinuum-based optical coherence tomography for non-destructive testing, and hope to see you there!
Conference Link: https://spie.org/PWB/conferencedetails/optical-biopsy#session-7
 September 25, 2019
New extended bandwidth supercontinuum source reaching 10 μm
We would like to share our latest development in extending the coverage of mid-IR supercontinuum sources into the molecular fingerprint region. The new source that covers from 1.5-10 μm will enable new applications within spectroscopy and imaging, such as trace gas detection and non-destructive testing of industrial coatings and components.

 April 26, 2019
Now you can follow NORBLIS on LinkedIn
To make sure you get all the latest news and relevant information about NORBLIS you can now follow us on LinkedIn: https://www.linkedin.com/company/norblis/
February 28, 2019
Photonics West 2019: The NORBLIS Mid-IR Supercontinuum laser and Mid-IR OCT system was officially launched
With us from Denmark we brought an example of our first prototype Mid-IR Supercontinuum laser emitting 100 mW from 1.5-8 μm wavelength, which attracted a lot of attention. So much that we ran out of flyers and had to go to a copying-shop to get more.
There was also some interest in the Mid-IR OCT system, and since this is the first system of its kind there were many questions regarding what the system could do compared to visible and near-IR systems, which several companies were showcasing at the exhibition.
This was our first ever exhibit at a major international conference, and it is safe to say that it was a great success and a fantastic experience.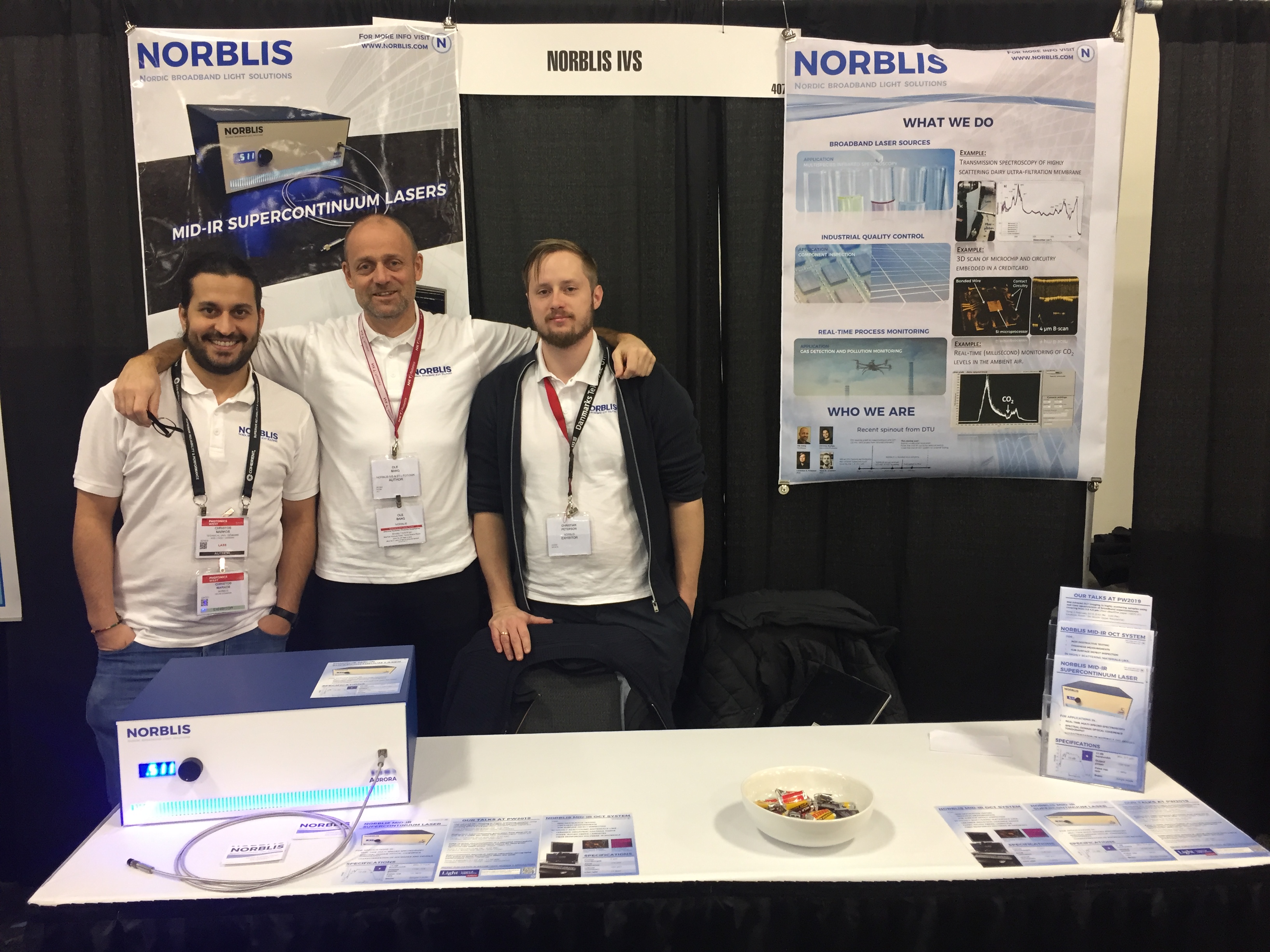 January 23, 2019
NORBLIS 4 μm mid-IR OCT system published in Nature journal Light: Science & Applications
We are happy to announce that our 4 μm mid-IR OCT system was published in the Nature journal Light: Science & Applications with the title "Real-time high-resolution mid-infrared optical coherence tomography".
The article is open access and is accessed through this link: Link to the article
In the paper we demonstrate improved imaging compared to near-IR systems in ceramic structures, scattering thin films, and a standard credit card composed of laminates, resins, wires, and the silicon microprocessor. In the future we will focus on finding more applications where mid-IR OCT has an advantage over existing systems.

Oktober 11, 2018
World-first 4 μm mid-IR OCT system presented at High Tech Summit 2018
We were very excited to display our prototype mid-IR OCT scanning system for the first time to the public and to talk about the many applications of NORBLIS broadband lasers with the crowd. Many people passed by our booth to check out the system and to ask what our technology could do. There was also a big interest in broadband mid-IR laser spectroscopy and real-time process monitoring from industry, so we are confident that there is a real need for our solutions.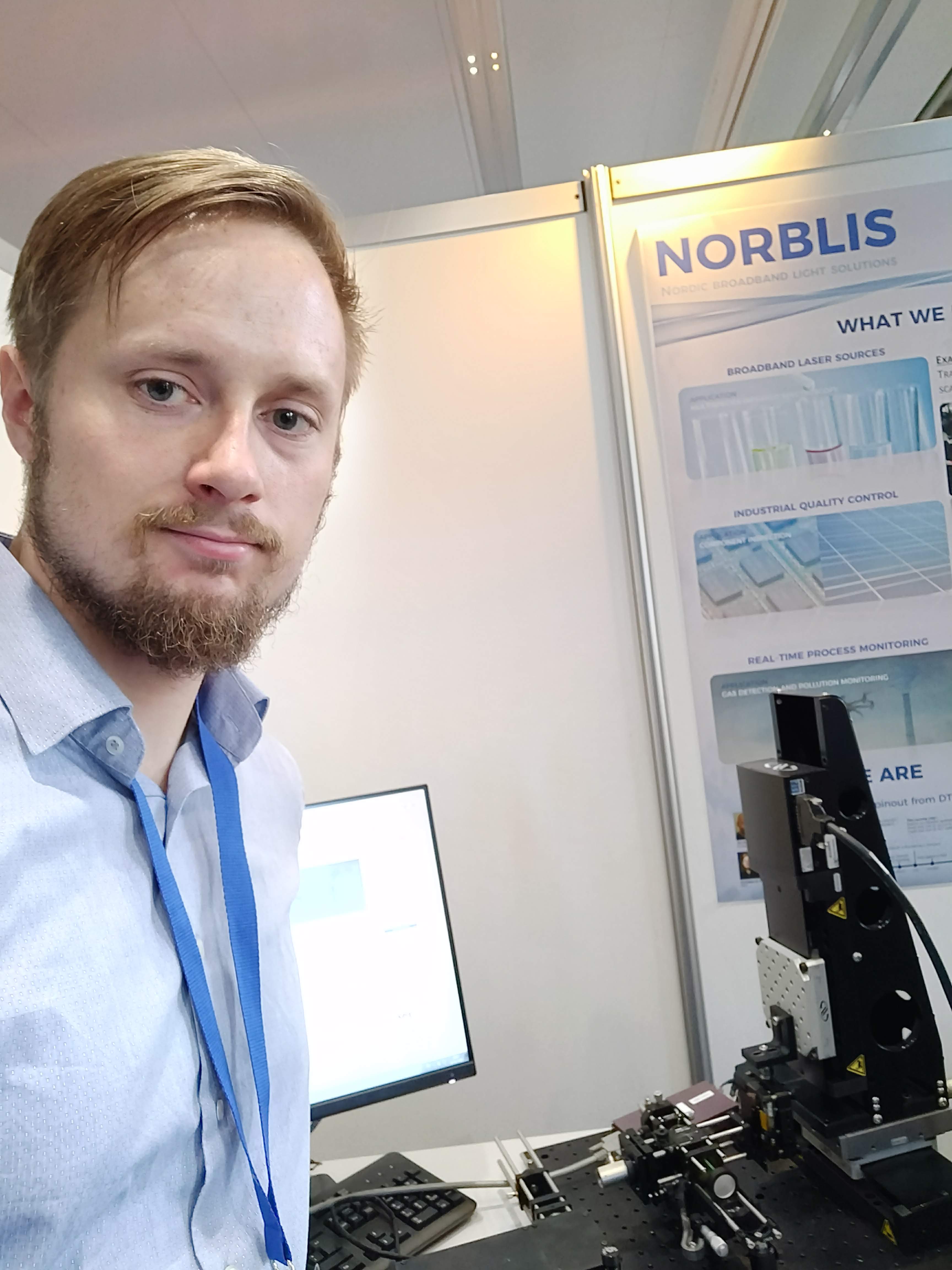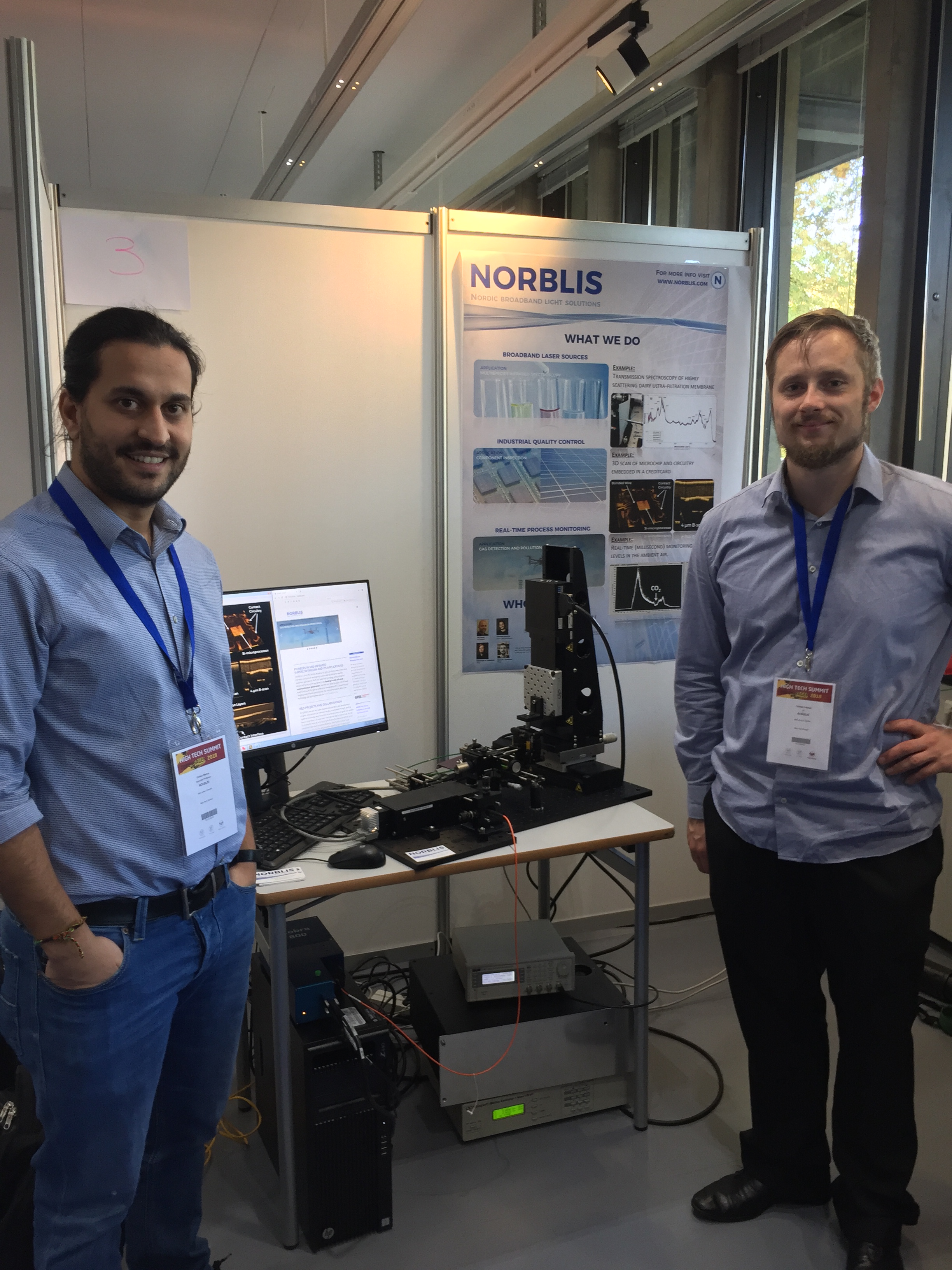 September 27, 2018
NORBLIS at startup exhibition at the High Tech Summit 2018
We are happy to announce that NORBLIS is one of the 50+ startups at this year's DTU Startup Fair Oct 10 at the Technical University of Denmark as a part of High Tech Summit 2018. Come meet us at our booth in the DTU Library from 10-16 to get a glimpse at our prototype mid-IR OCT system.
Participation is free and you can sign up here:https://www.tilmeld.dk/HighTechSummit2018/the-event.html 
September 7, 2018
NORBLIS will be present at Photonics West 2019              
We are very excited to announce our presence at the Photonics West 2019 exhibition. Come meet us at our booth in the exhibition hall from Feb. 5-7 and let us discuss how NORBLIS can be a part of your R&D project or production line. interferometry, and optical coherence tomography.
March 19, 2018
NORBLIS Receives PoC Funding              
On Friday March 16 it was announced that the DTU PoC Fund has granted NORBLIS 500.000 DKK to further develop the business case and to build a portable demonstrator system for customer validation. The system will target the long-wavelength mid-infrared (2-12 micron) specifically for customers in academia and R&D within spectroscopy, white light interferometry, and optical coherence tomography.